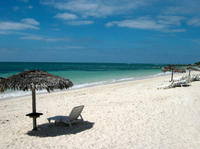 Freeport Shore Excursion: Bahamas Style Bonfire on the Beach. While you're off your cruise ship and in port in Freeport, enjoy a Bahamas bonfire party on the beach. Fire dancing, limbo contests and a DJ will entertain you, and you'll delight in an all-you-can-eat buffet. As many Bahama Mama cocktails as you can drink are available, as well, to get the party started right.
Categoría: Excursiones por la costa.
Inicio en: Freeport, Bahamas.
Duración: 3 horas.
Precio: 49,09 euros.